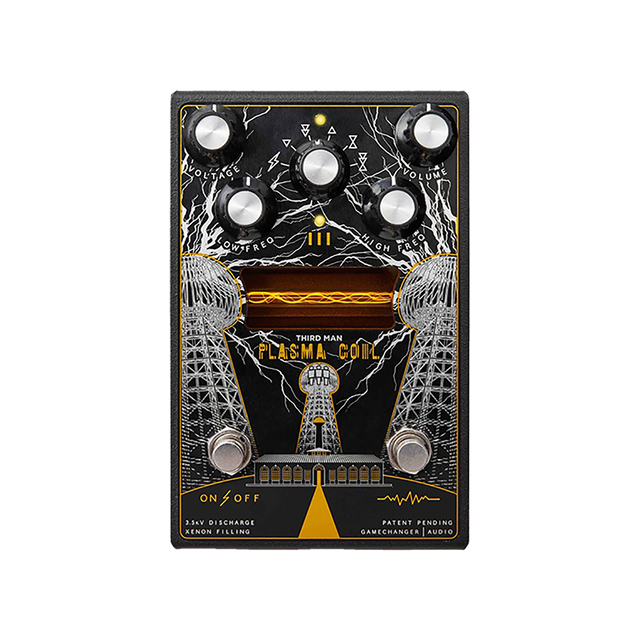 "THE PLASMA LITERALLY STRIPS PAINT OFF WALL.
WE CHALLENGE YOU TO FIND A SINGLE PEDAL THAT TAKES YOUR SOUND FROM CLEAN TO THIS LEVEL OF INSANITY, WHILST STILL BEING FULLY PLAYABLE BOTH WITH POWER CHORDS, LOW RIFFS AND SOLOS."
The PLASMA Coil is used by Jack White on the Raconteurs' latest album Help Us Stranger, in the subsequent tour and upcoming projects. At its heart is Gamechanger's innovative High Voltage Distortion technology that expresses audio signal as a series of electrical discharges. Even though they've been printing the words: "High Voltage Rock'n'Roll" on t-shirts since 1973, PLASMA Distortion is the first commercial musical device that literally amplifies the audio signal to 3500 Volts. Plasma Coil takes High Voltage distortion to new heights by adding multiple Octave-style circuits, and an additional Effects footswitch that can be toggled as latching or momentary. Simplified Signal Chain: Input -> EQ -> Octave/Effect -> Transformer to High Voltage -> Xenon Tube -> Antenna that picks up the electromagnetic vibrations surrounding the Tube -> Output The power supply is not included in the box. Plasma Coil uses a standard 9V DC center-negative pedal power supply of at least 250 mA. The expected life of the xenon tube is 10,000 to 70,000 hours of active playing. The xenon tube is replaceable. Download User's Manual here Title: Gamechanger Audio Third Man Records Plasma Coil Manufacturer's SKU: GCAPCO Model: Third Man Records Plasma Coil UPC: 750258555219 Manufacturer: Gamechanger Audio Made in EU, Riga, Latvia
| | |
| --- | --- |
| Input Type | 1/4" Unbalanced TS |
| Input Impedance | 1MΩ |
| Max Input Level | 7Vpp (+10dBu) |
| Output Type | 1/4" Unbalanced TS |
| Output Impedance | 100Ω |
| Max Output Level | 7Vpp (+10dBu) |
| Power connector | Center negative 2.1 x 5.5 mm barrel plug (the standard 9V) |
| Frequency Response | 20Hz to 22kHz |
| Controls | True bypass footswitch button, Effect footswitch button Potentiometers: VOLTAGE, VOLUME, LOW FREQ, HI FREQ, EFFECT TYPE, Effect Latch toggle switch |
| Indicator | Check indicator white LED |
| Connectors | IN, OUT, DC input |
| Power Requirements | 300mA, 9VDC |
| Peak Power Consumption | 2.7 W |
| Mean Power Consumption | 1 W |
| Power Consumption while silent | 0.025 W |
| Dimensions | LWH 148 x 96 x 70 mm / 5.1 x 3.8 x 2.8 in |
| Weight | 840 g / 1.8 lbs |
Main Features
High Voltage PLASMA Distortion circuit converts the audio signal into a series of Electrical discharges at 3.5 kV.
2 EQ Controls to boost or cut LOW and HIGH frequencies;
VOLTAGE Knob – adjusts the amount of electrical current sent to the PLASMA Tube.
EFFECT Knob allows you to select 1 of 6 different Special EFFECT types:

Volume Boost
2 Subharmonic modes (Bitcrush-style Octave Down)
1 Upper Harmonic mode (Octafuzz-style Octave Up)
2 Mixed modes (Upper and Lower harmonics combined)

EFFECT Footswitch – engages the PLASMA COIL's special effect circuit.
Master VOLUME Knob – cuts or boosts the Output Signal level.
ON/OFF silent footswitch.
Effect Footswitch TOGGLE – configure EFFECTS Footswitch as a latching ON/OFF switch or as a Momentary switch.
Natural Noise Gate As soon as you stop playing the electrical discharge within the gas-filled tube is interrupted, and the pedal will not produce any output signal at all. This feature allows you to achieve extreme contrasts between individual notes, by eliminating all of the in-between noises created by the instrument's pick-ups or by humming strings. Extremely Wide EQ The PLASMA pedal loses the original dry input signal and creates a new signal from fluctuations in the electromagnetic field surrounding the gas-discharge tube. This allows for a very wide range of frequencies. Boost and cut the lows and highs with the dedicated knobs. The EQ can be switched to affect only the wet sound or dry sound, which is especially suitable for bass. Unique Harmonic Saturation PLASMA converts your instrument's signal into a rapid series of electric discharges, which results in a large amount of non-linear harmonic saturation that causes extremely rich and responsive attacks, and brings out screeching sharp overtones and harmonics. These harmonic artifacts, produced as a by-product of the high voltage discharge are uncommon in traditional signal amplification, and therefore PLASMA Pedal's distortion is unlike anything you have heard before.