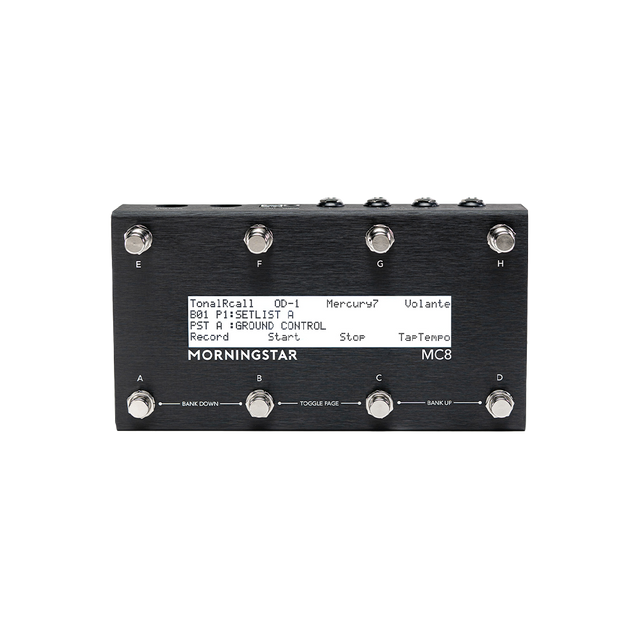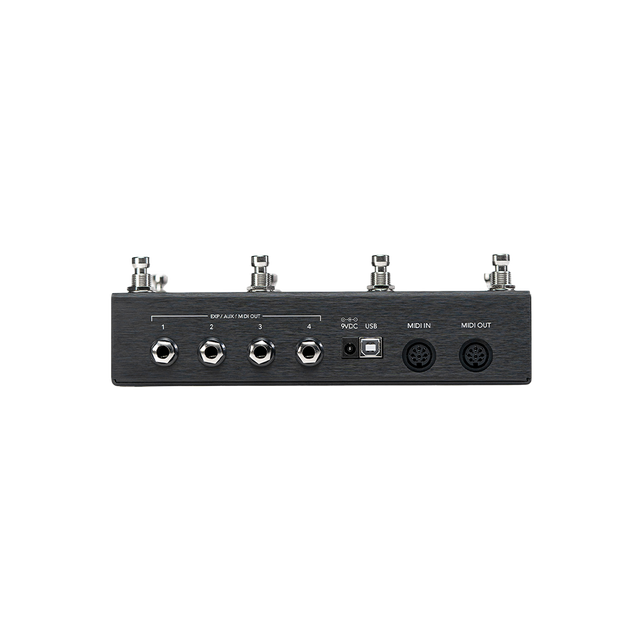 The MC8 rewrites the rules of hands-free MIDI control, allowing you to connect directly to both 5-pin DIN and 1/4 inch MIDI devices.​
With 4 brand new Omniports, you decide whether each 1/4 inch port acts as a MIDI output, Aux switch input or Expression pedal input.
30 dual-paged banks of 8 switches give you quick access to 16 fully programmable presets per bank simply by pressing [B+C] to toggle page.
Like all Morningstar MIDI controllers, the MC8 is compatible with and able to control any device that accepts MIDI. With the new Omniports, you are now free to also connect directly to 1/4 inch MIDI devices for even more control possibilities.
The MC8 is fully programmable and capable of sending up to 16 different MIDI messages per switch.
MIDI messages can be sent simultaneously, or triggered separately by performing different actions. This gives you precise and customizable control with just one switch.
With its new ergonomically angled chassis, the MC8 offers unparalleled control, meeting the needs of even the most demanding musician.
30 dual-paged banks
with 8 switches
Quickly access 16 presets per bank simply by toggling
Drivers not required
With MIDI over USB,
control your DAWs and software like Ableton Live and Logic Pro
1/4 inch MIDI Out,
Aux Switch Input or Expression Pedal Input
The choice is yours
Easily program the MC8 on the device itself, or with the Morningstar MIDI Editor
Programming the MC8 has never been easier
Interactive, real-time visual feedback for important information such as current bank, active preset, MIDI clock BPM and expression pedal position 
Send different messages depending on what action you perform. 
Each switch can send up to 16 different MIDI messages through
16 different MIDI channels.
Choose from a wide range of useful MIDI message types including PC, CC, Note on/off, SysEx, MIDI Clock (preset or tap), Preset Scroll, Bank Up/Down, Toggle Page and more.
More info: https://www.morningstarfx.com/mc8-midi-controller