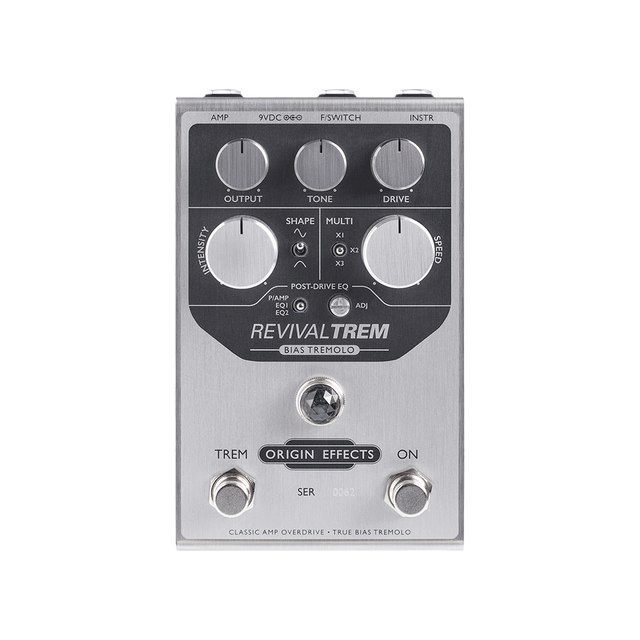 VINTAGE CLEANS, CLASSIC DRIVE, TIMELESS TREM
The DELUXE61 faithfully recreates the rich cleans, raunchy overdrive and dynamic, musical tremolo of the Fender® Brown Deluxe. Possibly the greatest amp of the early '60s.
Featuring an all-analogue, valve amp-style signal path with an authentic bias tremolo circuit, the DELUXE61 brings a huge range of classic sounds to your pedalboard – with plenty of modern flexibility.
Prior to October 2021, the DELUXE61 was known as the RevivalTREM. The circuitry remains the same but the new name better reflects its ability as an all-round amp recreation. All DELUXE61 pedals receive a slight adjustment in output level.
Complete, valve amp-style signal path recreated in all-analogue circuitry
Push-pull output stage with reactive load and genuine bias tremolo
Comprehensive Post-Drive EQ tailors the Deluxe61 to your amp's clean tone
Tour-grade, all-metal construction
Tap tempo and external switching for convenient control
High-impedance, buffered bypass with silent switching
Designed and built in England
AMP-LIKE SIGNAL PATH
The DELUXE61 provides a full circuit recreation of the sought-after Fender® Brown Deluxe, with an all-analogue signal path. This includes a Class A preamp, push-pull output stage, output transformer and reactive load. All this adds up to the most convincing amp tone you'll get from a pedal, capturing everything that makes the Brown Deluxe great. The lush cleans, the warm midrange and the signature gritty, raunchy overdrive – it's pure Rock 'n' Roll right on your pedalboard.
BIAS TREMOLO
Smooth, deep and rich, bias tremolo is considered by many to be the greatest of all the amp tremolo types. Unlike optical and harmonic tremolo circuits, bias tremolo works by modulating the bias voltage of the amp's output valves. This not only gives it its beautifully soft and uniquely musical character but also allows you to "play through" the tremolo. With overdriven sounds, picking harder causes the tremolo effect to disappear, fading back in as the notes die away or when you roll back the guitar's volume knob. It's both rewarding and highly addictive!
The DELUXE61 recreates this circuit in its entirety, packing every nuance of this dynamic and interactive playing experience into a pedal. Until now, only a real amp would suffice.
WAVE SHAPES
In addition to the sine wave oscillator shape that makes bias tremolo so irresistibly smooth, we've added a "full wave" setting. This gives the tremolo a more prominent, choppier character, great for keeping the effect obvious with more overdriven tones or with lazy, super-slow settings.
SPEED KING
Recreating vintage amp circuits is great, but it's even better when you can improve them! Going beyond the limitations of the original amp, The MULTI switch changes the range of the SPEED control, doubling or tripling the setting on the knob. This is even more helpful when using an external tap tempo switch, letting you set tremolo speeds way faster than your foot can tap.
POWERFUL POST-DRIVE EQ
While most overdrive pedals will work well with some amps and not so well with others, the DELUXE61's built-in Post-Drive EQ lets you tailor the output of the pedal to work with just about any amp, as well as flat-response power amps, FX loop returns, mixers and recording interfaces.
The Post-Drive EQ means you don't have to compromise your preferred clean settings to get the perfect drive sound. Simply set your amp how you like it, then adjust the DELUXE61's proprietary EQ filter until it matches.
BUILT FOR THE ROAD 
Designed with the touring musician in mind, the DELUXE61 features effects switcher integration for convenient remote control of the tremolo and tap tempo functions.
Housed in a hand polished, brushed stainless steel enclosure and furnished with aluminium controls, Neutrik jack sockets and heavy-duty footswitches, the DELUXE61 is equally at home on the road or in the studio.
SPECIFICATIONS
Weight: 900 g (1.98 lb)
Dimensions: 143 × 93 × 65 mm (5.62 x 3.66 x 2.56 in.) L x W x H - Includes knobs and switches
Current Draw: 100 mA
9V DC 2.1 mm centre-negative
Please note: the DELUXE61 is powered by a mains adaptor only (not included). We've dispensed with the usual 9V battery option, both to save space and to allow us to adopt a high-current approach, yielding lower noise levels and superior tone.
Origin Effects pedals are designed to deliver impeccable performance using a range of power supplies. We recommend you only use a regulated power supply specifically designed for guitar pedal applications as power supplies which do not have sufficient internal filtering can result in unwanted noise.
We recommend the following power supplies for use with our pedals:
Voodoo Labs Pedal Power series
Cioks supplies
Truetone 1 Spot Pro series
Strymon Zuma
This product should only be operated at 9V. The design employs a voltage doubling circuit to achieve higher internal voltages for improved sonic performance.