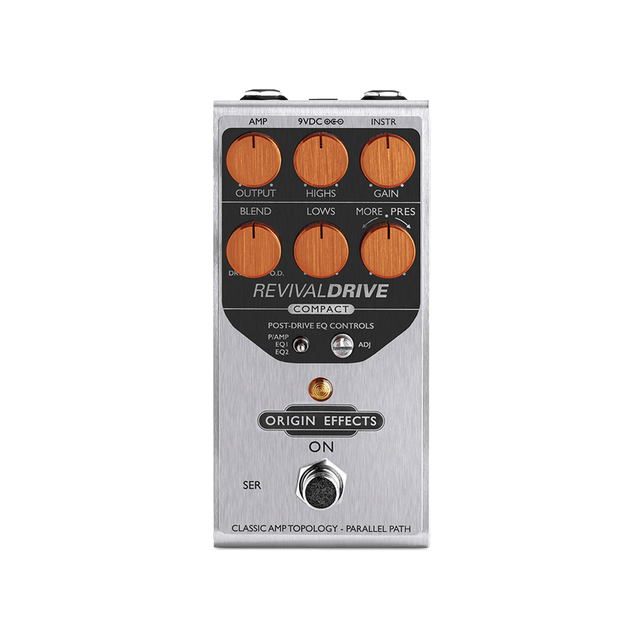 COMPACT OVERDRIVE, BIG AMP TONE!
The RevivalDRIVE Compact takes the ground-breaking circuit design found in the original RevivalDRIVE and condenses it into a smaller, more pedalboard-friendly package. Housing a complete valve amp-style signal path recreated in all-analogue electronics, the RevivalDRIVE features a streamlined set of controls that make it easier than ever to dial in a wide range of stunningly realistic valve amp tones, while the powerful Post-Drive EQ lets you adjust the RevivalDRIVE Compact to suit your preferred amp and settings, not the other way around.
Complete valve amp-style signal path with dedicated class-A preamp, long-tailed pair phase inverter, and push-pull output stage.
Variable negative feedback to fine-tune breakup characteristics or boost presence.
Reactive overdrive design simulates interaction between amp and speaker for realistic feel and authentic sound.
Accurately recreates power supply sag for smooth natural compression.
Full control of tone, dynamic response and distortion characteristics.
Interactive Blend control backs off the gain as you add dry signal, for the most natural sound.
Tour grade, all metal construction.
Powerful tone-shaping Post-Drive EQ.
High-impedance buffered bypass with silent switching.
Designed and assembled by hand in England.
REAL AMP OVERDRIVE
Just like the RevivalDRIVE, the RevivalDRIVE Compact is all about real amp overdrive. By replicating every stage of a valve amp's signal path using all-analogue components, with discrete transistor-based circuitry standing in for the valves, the RevivalDRIVE Compact delivers stunningly realistic tone, feel and dynamic response, ranging from clean to fully cranked.
The simplified control set allows you to directly shape key properties like preamp voicing, break-up characteristics and low-frequency distortion, to get straight to the components that govern great amp tone.
FEWER CONTROLS, SAME FLEXIBILITY
RevivalDRIVE Compact distils the complex functionality of the groundbreaking RevivalDRIVE into an intuitive new design that retains the sound and tonal range of the original. The brand-new Highs control takes the larger pedal's three distinct preamp voicing modes and maps them onto a single, continuous knob that offers a wealth of new in-between settings. The unique Interactive Blend circuit simultaneously backs off the gain as you mix in your clean tone, ensuring pleasing, musical results throughout the control's travel.
POWERFUL POST-DRIVE EQ
While most overdrives will work well with some amps and not so well with others, the RevivalDRIVE Compact's built-in Post-Drive EQ lets you tailor the output of the pedal to work with just about any amp, as well as flat-response power amps, mixers and recording interfaces.
The Post-Drive EQ means you don't have to compromise your preferred clean settings to get the perfect drive sound. Simply set your amp how you like it, then adjust the RevivalDRIVE Compact's proprietary EQ filter until it matches.
REVIVALDRIVE VS REVIVALDRIVE COMPACT
With the RevivalDRIVE Compact, we wanted to pack everything players loved about the RevivalDRIVE into a smaller pedal with a simpler set of controls. To achieve this, we designed a new, single channel rectifier circuit, voiced midway between a solid-state rectifier and a GZ34 rectifier valve, in place of the original's separate Valve and Silicon Rectifier channels.
We also decided to leave out additional features like the switchable mid-range boost and the Ghost control. If you want these extra features, switchable channels and more detailed control over things like dry signal level and output EQ, then the RevivalDRIVE is the one for you, but if you just want to get to the same unparalleled overdrive sounds, and you want to get there fast, that's exactly what the RevivalDRIVE Compact delivers.
BUILT FOR THE ROAD
Housed in a hand polished, brushed stainless steel enclosure and furnished with aluminium controls, Neutrik jack sockets and heavy-duty footswitch, the RevivalDRIVE Compact is at home on the road as it is in the studio.
SPECIFICATIONS
Weight: 620 g (1.37 lb)

Dimensions: 143 x 66 x 65 mm (5.62 x 2.6 x 2.56 in.) L x W x H - Includes knobs and switches
Input Impedance: 1 MΩ
Output Impedance: 1 kΩ
Current Draw: 100 mA
9V DC 2.1 mm centre-negative
Please note: the RevivalDRIVE Compact is powered by a mains adaptor only (not included). We've dispensed with the usual 9V battery option, both to save space and to allow us to adopt a high-current approach, yielding lower noise levels and superior tone.
Origin Effects pedals are designed to deliver impeccable performance using a range of power supplies. We recommend you only use a regulated power supply specifically designed for guitar pedal applications as power supplies which do not have sufficient internal filtering can result in unwanted noise.
We recommend the following power supplies for use with our pedals:
Voodoo Labs Pedal Power series
Cioks supplies
Truetone 1 Spot Pro series
Strymon Zuma
This product should only be operated at 9V. The design employs a voltage doubling circuit to achieve higher internal voltages for improved sonic performance.