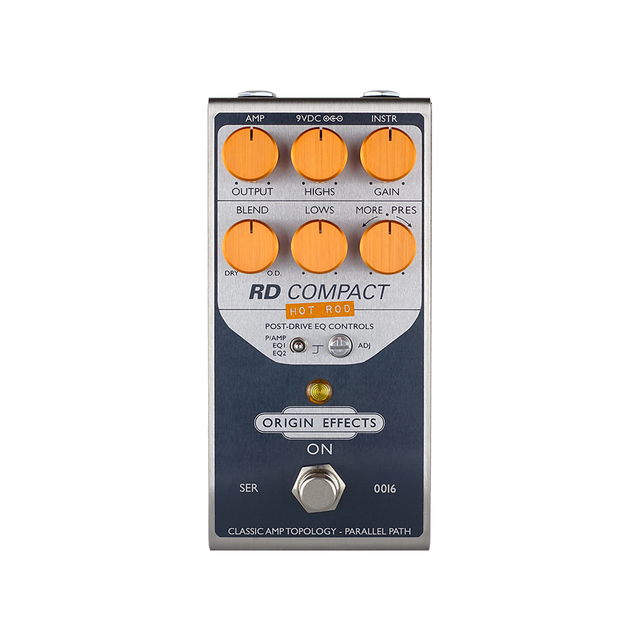 HOT-RODDED AMP OVERDRIVE!
The RD Compact Hot Rod packs huge, hot-rodded amp tones into a compact enclosure. Following in the tradition of the amp technicians whose experiments helped define the sounds of Hard Rock and early Heavy Metal, we have endowed our RevivalDRIVE Compact pedal with more gain and a whole new personality. The RD Compact Hot Rod recreates the entire signal path of a classic, modified valve amp using all–analogue circuitry, bringing you not only the sounds but also the dynamics and feel of these coveted, hot-rodded amps. 
Complete "hot-rodded" valve amp-style signal path with dedicated class-A preamp, long-tailed pair phase inverter, and push-pull output stage. 
Variable negative feedback to fine-tune breakup characteristics or boost presence. 
Reactive overdrive design simulates interaction between amp and speaker for realistic feel and authentic sound. 
Accurately recreates power supply sag for subtle, natural compression. 
Full control of tone, dynamic response and distortion characteristics. 
Interactive Blend control backs off the gain as you add dry signal, for the most natural sound. 
Tour grade, all metal construction. 
Powerful tone-shaping Post-Drive EQ. 
High-impedance buffered bypass with silent switching. 
Designed and assembled by hand in England. 
MODDED TO PERFECTION 
When the legendary amp techs of the '70s and '80s went in search of new, aggressive, sustaining Rock guitar tones, they took tried-and-tested amps and explored the limits of what they could do. That's exactly what we have done with the RD Compact Hot Rod – taken our already popular RevivalDRIVE Compact pedal and pushed it to the extreme. 
Built on that pedal's authentic, amp-like overdrive, the RD Compact Hot Rod increases the gain for huge overdrive and saturation. The voicing has also been tweaked for a more cutting, in-your-face character, while the power supply sag has been reduced to make percussive riffs hit even harder. 
Make no mistake, this pedal is not a one-trick, Hard Rock machine. Its valve-amp style circuit can still clean right up, just like the real thing. 
REAL AMP OVERDRIVE 
Just like all the pedals in the RevivalDRIVE range, the RD Compact Hot Rod is all about real amp overdrive. By replicating every stage of a valve amp's signal path using all-analogue components, with discrete transistor-based circuitry standing in for the valves, the RD Compact Hot Rod delivers stunningly realistic tone, feel and dynamic response, ranging from clean to fully cranked. 
The simplified control set allows you to directly shape key properties like preamp voicing, break-up characteristics and low-frequency distortion, to get straight to the components that govern great amp tone. 
POWERFUL POST-DRIVE EQ
While most overdrives will work well with some amps and not so well with others, the RD Compact Hot Rod's built-in Post-Drive EQ lets you tailor the output of the pedal to work with just about any amp, as well as flat-response power amps, FX loop returns, mixers and recording interfaces. 
The Post-Drive EQ means you don't have to compromise your preferred clean settings to get the perfect drive sound. Simply set your amp how you like it, then adjust the RD Compact Hot Rod's proprietary EQ filter until it matches. 
BUILT FOR THE ROAD 
Housed in a hand polished, brushed stainless steel enclosure and furnished with aluminium controls, Neutrik jack sockets and heavy-duty footswitch, the RD Compact Hot Rod is equally at home on the road or in the studio. 
SPECIFICATIONS

Weight: 620 g (1.37 lb)
Dimensions: 143 x 66 x 65 mm (5.62 x 2.6 x 2.56 in.) L x W x H - Includes knobs and switches
Input Impedance: 1 MΩ
Output Impedance: 1 kΩ
Current Draw: 100 mA
9V DC 2.1 mm centre-negative
Please note: the RD Compact Hot Rod is powered by a mains adaptor only (not included). We've dispensed with the usual 9V battery option, both to save space and to allow us to adopt a high-current approach, yielding lower noise levels and superior tone.
Origin Effects pedals are designed to deliver impeccable performance using a range of power supplies. We recommend you only use a regulated power supply specifically designed for guitar pedal applications as power supplies which do not have sufficient internal filtering can result in unwanted noise.
We recommend the following power supplies for use with our pedals:
Voodoo Labs Pedal Power series
Cioks supplies
Truetone 1 Spot Pro series
Strymon Zuma
This product should only be operated at 9V. The design employs a voltage doubling circuit to achieve higher internal voltages for improved sonic performance.