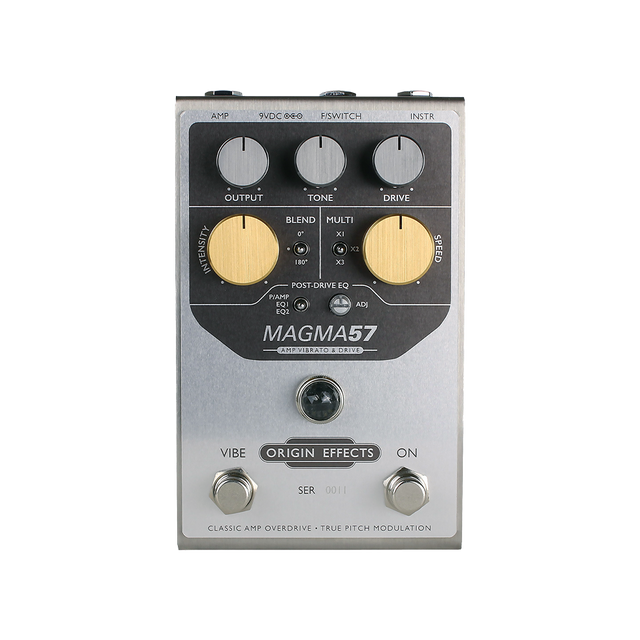 TRUE PITCH MODULATION, IN A PEDAL!
Combine lush, shimmering vibrato with a smooth, clear overdrive tone and you've got a sound that has inspired both legendary guitarists and renowned amp designers. MAGMA57 brings the best of the Magnatone® 200 Series amplifiers to your pedalboard—delivering everything from warm, jazzy clean tones to full-on swirling psychedelia.
True pitch-modulating vibrato
Reactive overdrive design for authentic sound and playing feel
Comprehensive Post-Drive EQ section to seamlessly match MAGMA57 to your amp
Tour grade, all metal construction
Effects system integration for convenient control
High-impedance buffered bypass with silent switching
Designed and built in England
WHEN IS VIBRATO REALLY VIBRATO?

MAGMA57 authentically recreates the pitch-bending vibrato effect built into the Magnatone® Custom 260 and 280 models from the late 1950s. These top-of-the-range combos featured a unique two-stage vibrato circuit that offered true pitch modulation—unlike the volume-changing tremolo effect built into other amps. For many players it remains the benchmark for lush, organic vibrato.
FINEST BLEND
Going beyond pure pitch modulation, MAGMA57 features two additional Blend modes to create a fascinating range of modulation flavours.
When wet and dry signals are combined in-phase, MAGMA57 delivers the classic pseudo-rotary speaker phasing of another benchmark effect: the Univox Uni-Vibe.
Summing these signals 180° out-of-phase generates both phasing and amplitude modulation, creating a stunning chorus-type effect unique to MAGMA57.
A WINNING COMBO
MAGMA57 's amp section is inspired by the Magnatone® Model 213 'Troubadour'. A true hidden gem, this dual-6V6 combo expands on the blueprint of the Tweed Deluxe by gently reining in the low end and adding a unique semi-passive, semi-active tone control.
The result is an amp that delivers the raw, organic overdrive of the Deluxe, but with a tighter low end that retains definition when pushed hard.
MAGMA57 features a complete valve amp-style signal path recreated with discrete analogue circuitry, and uses Origin Effects' Reactive Drive technology to deliver complex, dynamically responsive amp tones.
POWERFUL POST-DRIVE EQ
MAGMA57 no-compromise Post-Drive EQ lets you tailor the pedal's output to suit your amp, ensuring your clean AND overdrive tones always sound their best.
MAGMA57 even includes a touring-friendly Power Amp Mode for compatibility with flat-response power amplifiers, so you can keep the show on the road whatever happens.
REMOTE CONTROL
Designed with the touring musician in mind, MAGMA57 features a TRS footswitch jack so you can connect a Tap Tempo switch or a complete effects switching system like the Boss ES5 or TheGigRig G2.
BUILT FOR THE ROAD 
Housed in a hand polished, brushed stainless steel enclosure and furnished with aluminium controls, Neutrik jack sockets and heavy-duty footswitch, MAGMA57 is at home on the road as it is in the studio.
SPECIFICATIONS
Weight: 900 g (1.98 lb)
Dimensions: 143 × 93 × 65 mm (5.62 x 3.66 x 2.56 in.) L x W x H - Includes knobs and switches
Input Impedance: 1 MΩ
Output Impedance: 1 kΩ
Current Draw: 100 mA
9V DC 2.1 mm centre-negative
Please note: the MAGMA57 is powered by a mains adaptor only (not included). We've dispensed with the usual 9V battery option, both to save space and to allow us to adopt a high-current approach, yielding lower noise levels and superior tone.
Origin Effects pedals are designed to deliver impeccable performance using a range of power supplies. We recommend you only use a regulated power supply specifically designed for guitar pedal applications as power supplies which do not have sufficient internal filtering can result in unwanted noise.
We recommend the following power supplies for use with our pedals:
Voodoo Labs Pedal Power series
Cioks supplies
Truetone 1 Spot Pro series
Strymon Zuma
Dunlop ECB-004
This product should only be operated at 9V. The design employs a voltage doubling circuit to achieve higher internal voltages for improved sonic performance.