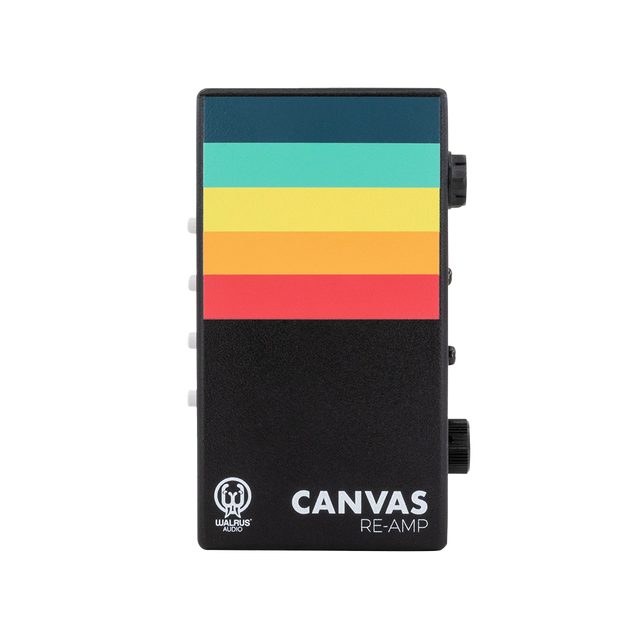 Adding another tool to the musical paint pallet, Walrus Audio is creating another way to design your tone with the Canvas Series Passive Re-Amp. The Re-Amp is a studio tool designed to send recorded guitar, drums, or other instrument tracks from your recording session through pedals and effects, or different amp combinations. The Re-Amp makes it's appearance to facilitate all-new ways to experiment with your songs.
Artists and producers can save time on tracking sessions by recording dry tracks first, then using Canvas Re-Amp's custom transformer to convert line-level signals, optimizing them to work with amps and guitar pedals of any kind to explore limitless tones and sounds. 
Using a Re-Amp
1. From your DAW, audio track goes into the Canvas Re-Amp.
2. Out from Re-Amp into pedals or mic'd amp.
3. Out from pedals / amp back into DAW.
Canvas Re-Amp Features
Frequency Response: 20Hz To 20kHz

THD+N: 0.07% @ 20Hz / +4dBu Input 0.001% @ 1kHz / +4dBu Input

Maximum Input Level: +21dBu @ 20Hz

Noise Floor: -116dBu

Signal To Noise Ratio: 114dB @ 1kHz

Input: Balanced Line-Level

Input Impedance: 3k Ohms

Output: Unbalanced Instrumental-Level

Output Impedance: 2.5k Ohms

Common Mode Rejection Ratio:79dB @ 20Hz / +4dBu Input
Specs
Frequency Response: 20Hz To 20kHz
THD+N: 0.07% @ 20Hz / +4dBu Input 0.001% @ 1kHz / +4dBu Input
Maximum Input Level: +21dBu @ 20Hz
Noise Floor: -116dBu
Signal To Noise Ratio: 114dB @ 1kHz
Input: Balanced Line-Level
Input Impedance: 3k Ohms
Output: Unbalanced Instrumental-Level
Output Impedance: 2.5k Ohms
Common Mode Rejection Ratio:79dB @ 20Hz / +4dBu Input
Power Requirement : None - Passive
Audio Circuit: Transformer Isolated