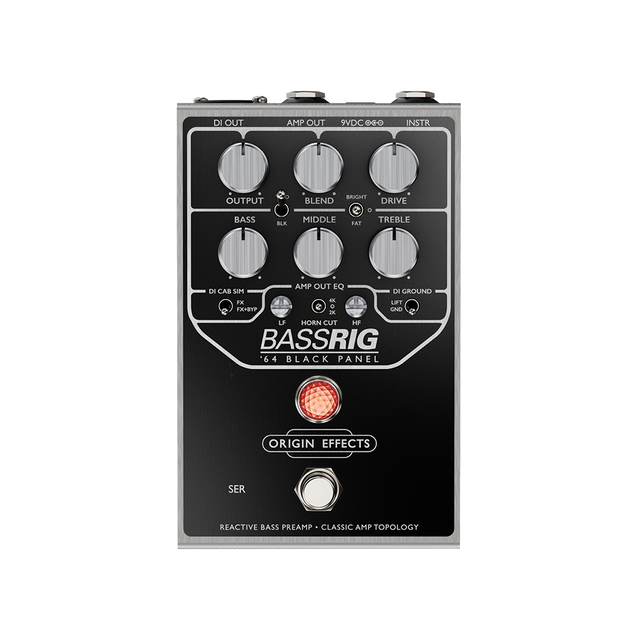 THE SOUND OF BLUES, SOUL AND ROCK 'N' ROLL
The BASSRIG '64 Black Panel is, quite simply, a complete vintage bass amp in a pedal. Based on Fender®'s Showman® and Bassman® amplifiers, we have used all-analogue circuitry to recreate a complete valve amp-style signal path, along with an all-analogue cabinet simulator, giving you the drive, grit and articulation of these classic amps in one small box.
Back in the days before modern bass amps, achieving high stage volumes with bass guitar was a challenge that required powerful, clean amps. Nobody fills this niche quite like Fender®. Their high-powered amps – designed with guitar and bass in mind – graced countless stages and studios throughout the 1960s. The Showman®, with its 2×15 cabinets, and the later Bassman® models boast an illustrious list of users between them, including Sir Paul McCartney, Crazy Horse's Billy Talbot and our own personal favourite, Berry Oakley of The Allman Brothers.
In fact, a whole host of Fenders can be heard amplifying the bass on some of the greatest Soul and Rock 'n' Roll records of the '60s. At Origin Effects, we believe that this boundary-pushing era has given us some of history's best bass tones.
With XLR and ¼" outputs, the BASSRIG '64 Black Panel will fit seamlessly into any signal chain, no matter how simple or complex, and our powerful Amp Out EQ tailors your sound to work with any amp, meaning you never have to compromise your clean tone.
Complete valve amp-style signal path with dedicated class-A preamp and push-pull output stage, based on the Fender® Showman® and Bassman®
Balanced DI output with analogue cabinet simulator based on an early '60s Fender® 2×15 bass cabinet
Reactive overdrive design simulates interaction between amp and speaker for realistic feel and authentic sound
Full range of Fender bass tones from clean to overdriven
Powerful tone-shaping Amp Out EQ
Blend control lets you mix your drive sound in parallel with your clean signal
Tour-grade, all-metal construction
High-impedance, buffered bypass with silent switching
Designed and built in England
REAL AMP OVERDRIVE
The BASSRIG '64 Black Panel uses the same ground-breaking circuitry found in our other Analogue Amp Recreation pedals, replicating the entire signal path of the Showman® and delivers all the tone shaping, drive and character of this historic amp with stunning realism.
The FAT switch takes things into Bassman® territory, replacing the Showman®'s tight low end with a deeper, squishier bass response. For an even dirtier breakup, switching from BLK to TWD harks back to the Tweed era, with thick midrange and raucous overdrive.
We've also added a BLEND knob, which mixes in some of your clean signal in parallel with the pedal's emulated amp circuit. This control can add some subtle, low-end clarity or be used to create massive bi-amp-style overdrive tones.
ANALOGUE CABINET SIMULATOR
The balanced DI output on the BASSRIG '64 Black Panel is equipped with a painstakingly engineered, all-analogue simulation of Fender®'s 2×15 bass speaker cabinet – an essential part of this amp's signature sound. Craft the perfect recorded bass tone or run direct into the PA at gigs!
The switch on the front panel lets you select whether the cabinet simulator is always active or only on when the pedal is engaged, meaning you can use the BASSRIG to add cabinet simulation to other pedals or keep an unaffected DI signal when the pedal is in bypass.
POWERFUL AMP OUT EQ
Bass amps come in so many different varieties and we wanted the BASSRIG '64 Black Panel to work with all of them. Our proprietary Amp Out EQ filter lets you tailor the output of the pedal so you never have to compromise on tone, keeping your sound consistent from amp to amp, gig to gig.
Positioned after the drive circuit, the LF and HF trimmers adjust the low and high frequencies to give you the sound of a roaring vintage stack from even the tiniest combo, or tame unwanted boominess and brightness when using unfamiliar backline cabs. The HORN CUT switch instantly combats fizziness when using overdriven sounds with a tweeter-equipped cab, letting you keep your hi-fi clean tone and kick in proper, vintage overdrive.
BUILT FOR THE ROAD
Housed in a hand polished, brushed stainless steel enclosure and furnished with aluminium controls, Neutrik® jack sockets and heavy-duty footswitch, the BASSRIG '64 Black Panel is equally at home on the road and in the studio.
146 × 93 × 65 mm (5.74 x 3.6 x 2.5 in.)
L x W x H - Includes knobs and switches
9V DC 2.1 mm centre-negative
Please note: the BASSRIG is powered by a mains adaptor only (not included). We've dispensed with the usual 9V battery option, both to save space and to allow us to adopt a high-current approach, yielding lower noise levels and superior tone.
Origin Effects pedals are designed to deliver impeccable performance using a range of power supplies. We recommend you only use a regulated power supply specifically designed for guitar pedal applications as power supplies which do not have sufficient internal filtering can result in unwanted noise.
We recommend the following power supplies for use with our pedals:
Voodoo Labs Pedal Power series
Cioks supplies
Truetone 1 Spot Pro series
Strymon Zuma
This product should only be operated at 9V. The design employs a voltage doubling circuit to achieve higher internal voltages for improved sonic performance.